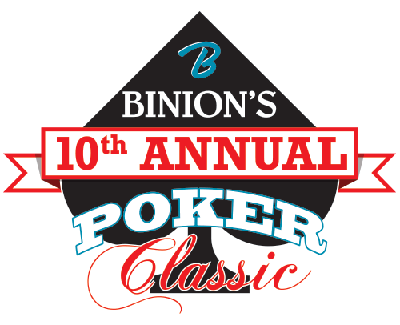 Binion's 10th Annual Poker Classic Schedule 2016
Date
Start
Buy-In
Event
Prize Pool
Chips
Level
Min
Fri
3-Jun
12pm
$180
No-Limit Hold'em
$10K Guarantee
30,000
30
Sat
4-Jun
12pm
$180
No-Limit Hold'em
--------------
30,000
30
Sun
5-Jun
12pm
$360
No-Limit Hold'em (6 Max)
--------------
40,000
40
Mon
6-Jun
12pm
$240
7 Card Stud
--------------
30,000
30
Tue
7-Jun
12pm
$240
Pot Limit Omaha
--------------
30,000
30
Wed
8-Jun
12pm
$240
H.O.R.S.E.
--------------
30,000
30
Thu
9-Jun
12pm
$240
Limit Omaha 8 or Better
--------------
30,000
30
Fri
10-Jun
12pm
$240
2-7 Triple Draw
--------------
30,000
30
3pm
$240
7 Card Razz
--------------
30,000
30
Sat
11-Jun
12pm
$180
No-Limit Hold'em
$10K Guarantee
30,000
30
Sun
12-Jun
12pm
$360
No-Limit Hold'em
$25K Guarantee
40,000
40
Mon
13-Jun
12pm
$240
Pot Limit Omaha 8 or Better
--------------
30,000
30
Tue
14-Jun
12pm
$240
Limit Omaha 8 or Better/Stud 8 or Better
--------------
30,000
30
Wed
15-Jun
12pm
$240
Tag Team No-Limit Hold'em Players Switch
--------------
------
30
Thu
16-Jun
12pm
$240
Pot Limit Omaha/No-Limit Hold'em Mix
--------------
30,000
30
3pm
$240
Badugi
--------------
30,000
30
Fri
17-Jun
12pm
$240
7 Card Triple Stud Razz-Stud-Stud 8 or Better
--------------
30,000
30
Sat
18-Jun
12pm
$180
No-Limit Hold'em
$10K Guarantee
30,000
30
Sun
19-Jun
12pm
$180
No-Limit Hold'em
$10K Guarantee
30,000
30
Mon
20-Jun
12pm
$360
H.O.R.S.E. Championship
$25K Guarantee
40,000
40
Tue
21-Jun
12pm
$240
7 Card Stud 8 or Better
--------------
30,000
30
Wed
22-Jun
12pm
$240
Seniors No-Limit Hold'em
--------------
40,000
40
Thu
23-Jun
12pm
$360
Pot Limit Omaha Championship
$25K Guarantee
40,000
40
Fri
24-Jun
12pm
$180
No-Limit Hold'em
$10K Guarantee
30,000
30
Sat
25-Jun
12pm
$180
No-Limit Hold'em
$10K Guarantee
30,000
30
3pm
$135
Super Satellite BPC Championship or WSOP Qualifiers
$500 Lammers
20,000
20
Sun
26-Jun
12pm
$565
BPC Championship No-Limit Hold'em 1(A)
$50K Guarantee
50,000
60
Mon
27-Jun
2pm
$565
BPC Championship No-Limit Hold'em 1(B)
$50K Guarantee
50,000
60
Tue
28-Jun
2pm
N/A
BPC Championship No-Limit Hold'em Final
$50K Guarantee
------
--
4pm
$135
Super Satellite BPC Championship or WSOP Qualifiers
$500 Lammers
20,000
20
Wed
29-Jun
11am
$135
Turbo Satellite WSOP Qualifiers
$500 Lammers
10,000
10
Wed
29-Jun
3pm
$565
WSOP Main Event Qualifier
$10K Seat Guaranteed
Rio Main Event
20,000
30
Thu
30-Jun
12pm
$240
Limit Hold'em
--------------
30,000
30
Fri
1-Jul
12pm
$240
No-Limit Hold'em (6 Max)
--------------
30,000
30
Sat
2-Jul
12pm
$180
No-Limit Hold'em
$10K Guarantee
30,000
30
3pm
$135
Super Satellite BPC Championship or WSOP Qualifiers
$500 Lammers
20,000
20
Sun
3-Jul
11am
$135
Turbo Satellite WSOP Qualifiers
$500 Lammers
10,000
10
Sun
3-Jul
3pm
$565
WSOP Main Event Qualifier
$10K Seat Guaranteed
Rio Main Event
20,000
30
Mon
4-Jul
12pm
$240
Ladies No-Limit Hold'em
--------------
30,000
30
3pm
$135
Super Satellite BPC Championship or WSOP Qualifiers
$500 Lammers
20,000
20
Tue
5-Jul
11am
$135
Turbo Satellite WSOP Qualifiers
$500 Lammers
10,000
10
Tue
5-Jul
3pm
$565
WSOP Main Event Qualifier
$10K Seat Guaranteed
Rio Main Event
20,000
30
Binion's Daily 6pm $75 Tournament will be held in the "Live Side" Poker Room.
Re-entry will be permitted in ALL BSPC Events.
TDA poker tournament rules apply. All floor decisions are final.
Binion's management reserves the right to cancel or amend this schedule at any time.
Binion's reserves all rights.
Must be 21 or older to enter. Gambling Problems! Call 1.800.552.4700